Gift pays the way for Student Research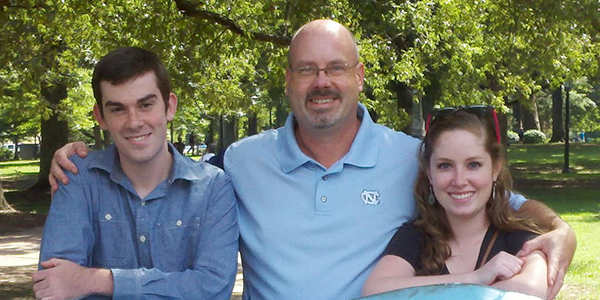 Brent Sheerer '97 (M.B.A.) didn't take the easiest road to getting his college education, but for him and his daughter, Kristen, who graduated from UNC in 2013 with a degree in applied sciences, the journey was well worth it.

It took Sheerer eight years to earn his undergraduate degree from Youngstown State University in Ohio. He worked full-time to support his family and earned his M.B.A. from Kenan-Flagler's Evening Executive M.B.A. Program. He invested more than a decade of his life to get to that point, but as a first-generation college student who toured prospective colleges on his own, he knew it was the path to his future.

"It was definitely challenging working my way through school and then returning for my master's while holding down a job and supporting my family with two young children, but it was what I needed to do to advance my career goals," he said. "I was fortunate to have a great support system, and extremely fortunate to be at UNC."

Sheerer said UNC is where he gained the practical business knowledge and experience he sought, but more important, it's where he developed his own passion for entrepreneurship and private enterprise.

And he had to put that knowledge to the test pretty much immediately, because it was during his M.B.A. program that the Raleigh, N.C.-based company where he worked relocated, and he was faced with the possibility of moving his family to Pennsylvania. "That was kind of scary, but I used it as the foundation for my capstone project to build and execute a business plan for starting a small company with other partners," he said. "Turns out, entrepreneurship was in my wheelhouse, and I was able to apply the small business practices I was learning at Kenan-Flagler to create a profitable business in a niche market. Envisioning, creating, owning and growing a business was really a dream come true for me, and I couldn't have done it without UNC."

Now, as president of Ultra-Met carbide technologies, maker of custom-molded tungsten carbide products located in Urbana, Ohio, Sheerer is making the path a little smoother for future Tar Heels looking to gain practical undergraduate research experience in biomedical engineering, Kristen's chosen field and a keen interest area for Sheerer. Inspired by Kristen's undergraduate research experience, Sheerer has committed $25,000 to create the Sheerer Family Fund for Undergraduate Research in the Department of Biomedical Engineering in the College of Arts and Sciences to help support students as they pursue and complete a research experience like his daughter's. Ultra-Met is matching his commitment, making it a $50,000 endowment. Recognizing that inflation in future years could negatively affect the endowment's impact, Sheerer also provided for the endowment in his estate plans. Adding a provision in his trust was simple, and doing so gave him a deep sense of satisfaction knowing he was helping today's UNC students as well as tomorrow's.

"It's so important now for students to gain some meaningful, applicable experience in their chosen discipline," Sheerer said. "But it's also about gaining valuable life experience too, from getting a passport and traveling abroad for the first time to appreciating other cultures, traditions and histories."

Sheerer said his time at UNC gave him much more than an M.B.A.; it gave him options. Now he's excited to pay it forward. "Carolina helped open the door to so many opportunities for me in the business world and challenged me to continue growing as a person," he said. "Even better, my confidence in my abilities soared, and I found my passion in entrepreneurship. I hope these research opportunities will help great students focus on their vision and enjoy the thrill of exploration and discovery."
The Office of Gift Planning assists donors seeking to make current or future gifts to Carolina in the most advantageous manner. Our team regularly partners with professional advisors (attorneys, financial planners, tax advisors, insurance professionals, trust officers, Certified Public Accountants, etc.) to assist donors with financial, tax, retirement and estate planning knowledge to achieve your objectives and create a Carolina Legacy. For more information, please contact the Office of Gift Planning by phone at 1-800-994-8803 or email our office at createalegacy@unc.edu. To learn more about creating your own Carolina Legacy, visit unclegacy.org.